University of toledo Homecoming
There's no better time to come back than Homecoming weekend! 
Homecoming Weekend 2022 | Fri. Sept. 30 – Sun. Oct. 2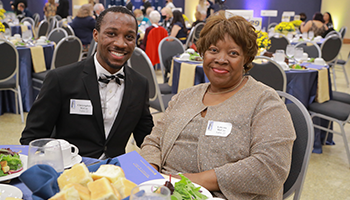 Homecoming award Gala  |  6 - 9 p.m.
Meet and honor alumni who make an impact every day in communities across the country and the world.

Homecoming

parade  | 10 a.m.

Celebrate Homecoming day with the Annual Edward C. and Helen G. Schmakel parade. Follow the parade through Old Orchard and get ready for the game.
pregame party  |  Noon - 3 p.m.
Get ready to cheer on the Rocket football team with alumni, students, faculty, staff and fans at the The William and Carol Koester Alumni Pavilion.
Relive the tradition
Homecoming is one of UToledo's oldest traditions! See how it has changed over the years:
For more information on individual homecoming activities or events, including the Golden Alumni Reunion, football game and student events, visit the page menu or select from the list below.