Welcome home, Rocket alumni!
Our alumni are forever part of our UT family. And The University of Toledo Alumni Association is your way to stay connected to your alma mater. We'll let you know about family-friendly events on campus and networking and professional development opportunities where you are. We'll give you all the details you need to come back for football and basketball games, Homecoming and Art on the Mall. So bookmark this page and visit us often. Better yet, join your UT Alumni Association. We'll keep you in the loop.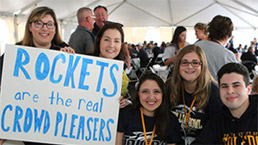 join or renew.
You Belong.
Stay up-to-date on all things UT. Your Alumni Association is here for you.
Join Today
Stay Connected
Alumni
e

Magazine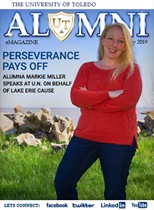 Richard Olekanma Lives 'Great American Dream'
Since 1987 when running back Christian Okoye was selected in the second round of the NFL Draft by the Kansas City Chiefs, 50 Nigerian-born players have made it to the NFL. Seven were selected in the 2018 NFL Draft. Hundreds more have played college ball. University of Toledo senior linebacker Richard Olekanma is a part of the growing story of Nigerians excelling in a sport that is rarely, if ever, played on the African continent.
Read More
Join our mailing list
Class Notes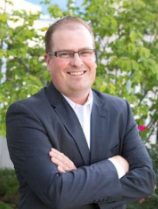 Michelle Lynn Sherwin (LLSS '12, MEd '13) and Zachary Michael Meeks (Bus '12, MBA '13)
Michelle Lynn Sherwin and Zachary Michael Meeks were married on July 28 at The Vault in Columbus, Ohio. Michelle is a school psychologist for South-Western City Schools in Grove City, Ohio, and Zachary is a human resources business partner at Hollywood Casino in Columbus.
Read More
Submit a class note
Alumni Association Partners