Welcome home, Rocket alumni!
Our alumni are forever part of our UT family. And The University of Toledo Alumni Association is your way to stay connected to your alma mater. We'll let you know about family-friendly events on campus and networking and professional development opportunities where you are. We'll give you all the details you need to come back for football and basketball games, Homecoming and Art on the Mall. So bookmark this page and visit us often. Better yet, join your UT Alumni Association. We'll keep you in the loop.
We have moved!
As of Jan. 22, the UT Alumni Engagement offices are located in the new Center for Alumni and Donor Engagement, 4510 Dorr St., MS #830, Toledo, OH 43615-4040 (adjacent to Welltower Inc.). UT Foundation, Development and Special Events offices also moved to the building. Our general phone number remains 419.530.2586.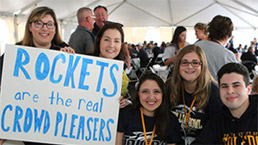 join or renew.
You Belong.
Stay up-to-date on all things UT. Your Alumni Association is here for you.
Join Today
Stay Connected
Alumni
e

Magazine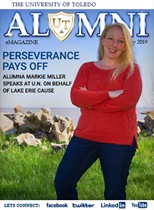 UT's own little piece of paradise
The vision for Centennial Mall was created by UT's 11th president Glen R. Driscoll, who served from 1972 to 1985. Since its dedication in 1980, this campus centerpiece has grown into a beautifully landscaped retreat with benches, river outlooks and sculptures. Today, Centennial Mall is the heart of campus and a place of community spirit.
Read More
Join our mailing list
Class Notes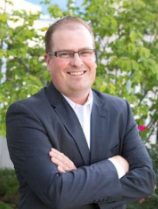 Dr. Jordan Maddocks (Pharm '11, Honors '11, PharmD '13, Honors '13)
Dr. Jordan Maddocks was promoted to director of clinical outcomes and services at EnvisionPharmacies, located in North Canton, Ohio. Maddocks and his wife, Carly, welcomed their first-born child, Selah, on Sept. 2, 2018.
Read More
Submit a class note
Alumni Association Partners