Welcome home, Rocket alumni!
Our alumni are forever part of our UT family. And The University of Toledo Alumni Association is your way to stay connected to your alma mater. We'll let you know about family-friendly events on campus and networking and professional development opportunities where you are. We'll give you all the details you need to come back for football and basketball games, Homecoming and Art on the Mall. So bookmark this page and visit us often. Better yet, join your UT Alumni Association. We'll keep you in the loop.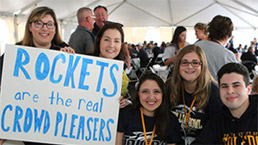 join or renew.
You Belong.
Stay up-to-date on all things UT. Your Alumni Association is here for you.
Join Today
Stay Connected
Alumni
e

Magazine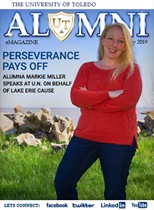 A lyrical journey
Estar Cohen believes she has found her true voice. At a young age, Cohen's songwriting siblings and popular folk artists Cat Stevens, Joni Mitchell, Nick Drake and Elliot Smith initiated her into music. By middle-school age she was composing her own songs. Her ear then became tuned to a whole different sound she heard at the former Murphy's Place in Toledo.
Read More
Join our mailing list
Class Notes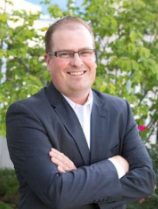 Beth M. Eckel (Law '09)
Beth Eckel was elected to partner in the real estate practice group of Shumaker, Loop and Kendrick, LLP, in their Toledo office. She focuses her practice on commercial real estate, REITs and financial institutions and services.
Read More
Submit a class note
Alumni Association Partners