Welcome home, Rocket alumni!
Our alumni are forever part of our UT family. And The University of Toledo Alumni Association is your way to stay connected to your alma mater. We'll let you know about family-friendly events on campus and networking and professional development opportunities where you are. We'll give you all the details you need to come back for football and basketball games, Homecoming and Art on the Mall. So bookmark this page and visit us often. Better yet, join your UT Alumni Association. We'll keep you in the loop.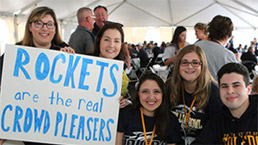 join or renew.
You Belong.
Stay up-to-date on all things UT. Your Alumni Association is here for you.
Join Today
Stay Connected
Alumni
e

Magazine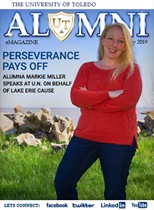 Cross-cultural connections
University of Toledo alumni Elizabeth Sexton (A/S '96, '05) and Neil Hetrick (Ed '15) each earned a prestigious Fulbright award and fulfilled their study abroad in Europe. They both value learning a foreign language and interacting with native speakers as well as absorbing their cultures. And both have done research in their respective destination countries.
Read More
Join our mailing list
Class Notes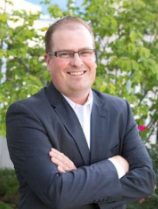 Dr. Lance A. Talmage (Eng '60)
Dr. Talmage accepted the position of associate dean for graduate medical education and designated institutional official at UT in the College of Medicine and Life Sciences. He is a long-time faculty member of the College and has served in leadership positions, including interim chair of the Department of Obstetrics and Gynecology.
Read More
Submit a class note
Alumni Association Partners