Welcome home, Rocket alumni!
Our alumni are forever part of our UT family. And The University of Toledo Alumni Association is your way to stay connected to your alma mater. We'll let you know about family-friendly events on campus and networking and professional development opportunities where you are. We'll give you all the details you need to come back for football and basketball games, Homecoming and Art on the Mall. So bookmark this page and visit us often. Better yet, join your UT Alumni Association. We'll keep you in the loop.
We are moving!
As of Jan. 22, the UT Alumni Engagement offices will be located in the new Center for Alumni and Donor Engagement, 4510 Dorr St., MS #830, Toledo, OH 43615-4040 (adjacent to Welltower Inc.). UT Foundation, Development, and Special Events offices are also moving to the building. Our general phone number remains 419.530.2586.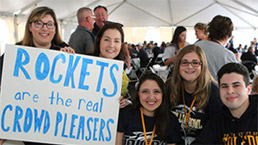 join or renew.
You Belong.
Stay up-to-date on all things UT. Your Alumni Association is here for you.
Join Today
Stay Connected
Alumni
e

Magazine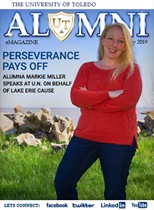 Top Rockets
Toledo basketball players Kaayla McIntyre and Nate Navigato are scoring points and making history. McIntyre currently ranks second in Mid-American Conference history with an overall 62.4 field-goal percentage, making 470 of 757 of her shots from the floor. Navigato entered the 2018-19 season just 56 treys behind Nick Moore's (1999-2003) school record of 276, and will likely take over the top spot later this season.
Read More
Join our mailing list
Class Notes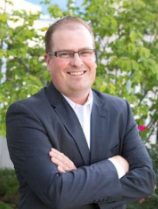 Stephanie Gurgol (HSHS '12, Law '15) and Tyler Guthrie (Bus '14, MBA '17)
Stephanie Gurgol and Tyler Guthrie were married at St. Albert the Great Church in North Royalton, Ohio on Sept. 8. Stephanie is a law clerk in Toledo for The Hon. Judge James G. Carr, and Tyler is a portfolio management associate at Key Private Bank. The couple honeymooned in Hawaii.
Read More
Submit a class note
Alumni Association Partners